At the Weinberg Campus Accelerator the 1st of June means start of the new the 3rd Batch. And we can't be more excited about the five extremely promising startups that […]
At the Weinberg Campus Accelerator the 1st of June means start of the new the 3rd Batch. And we can't be more excited about the five extremely promising startups that are part of this class.
The Startups
In the 3rd Batch of the Weinberg Campus Accelerator we can welcome five cutting-edge startups that will go this four-month long journey with us. Read along and check out their profiles.
This Startup Team from Magdeburg consists of Moritz Spiller, Thomas Sühn, Nazila Esmaeili and Dr. Alfredo Illanes. They aim to make the work of surgeons through "listening" to instrument-tissue interactions a lot easier and more importantly safer for patients. With a plug-and-play system that can be attached to surgical instruments SURAG makes the performance of minimally invasive surgeries more accurate. Vibrations that are caused through the contact between interventional devices and the human tissue are gathered and processed audiovisually resulting in less interal injuries.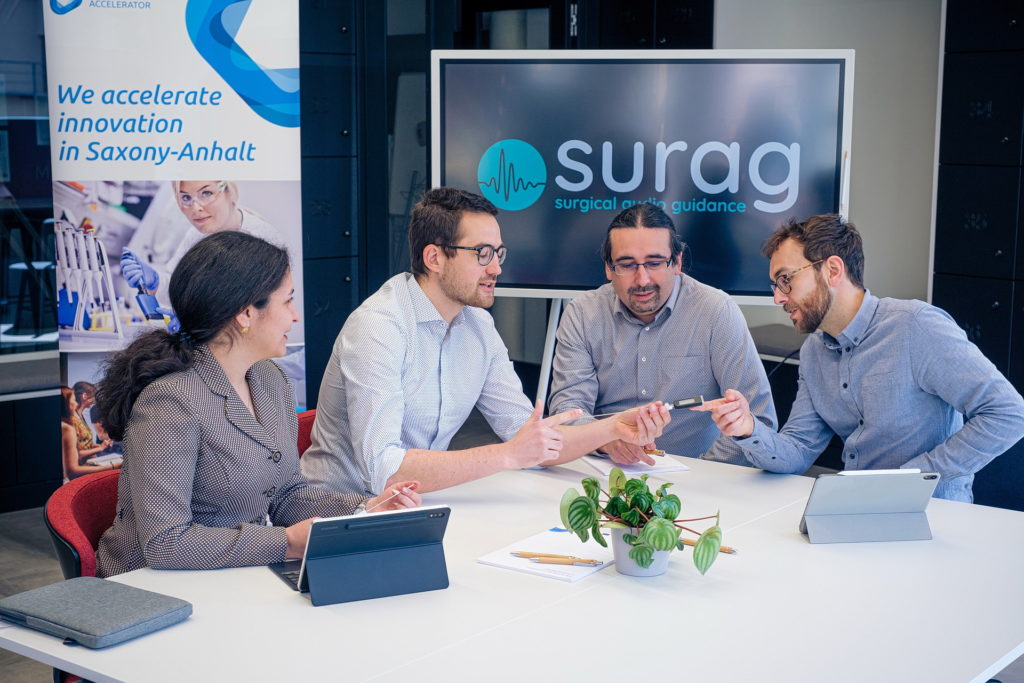 (H)ear free
Dr. Stefanie Stegmann and Christian Schröder from (H)ear free in Halle (Saale) work on facilitating the communication between elderly or hearing impaired people by using bone conduction headphones that are linked to a microphone. (H)ear free uses this technology to transfer vibrations via the cranial bone directly to the acoustic nerve without blocking the outer ear. This type of headphones can be of the utmost importance in Emergeny Rooms, ambulances, in acute medicine or the care sector and thereby avoiding miscommunication between the patient and the doctor. Thus, wrong treatment decisions or misdiagnoses can be prevented.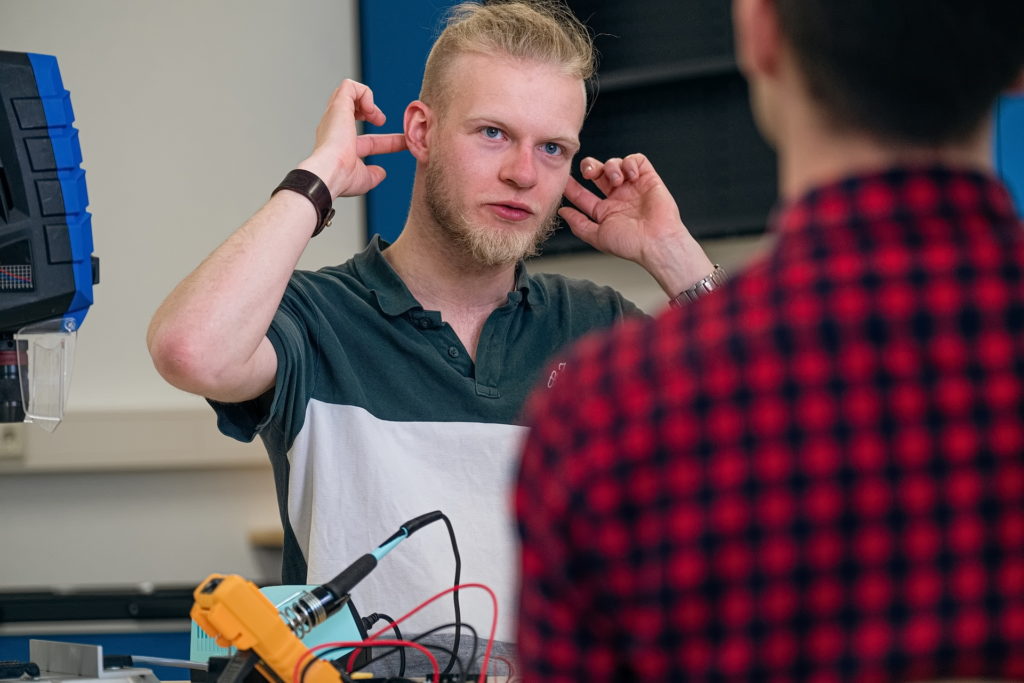 iRMed
The iRMed team works with longer electromagnetic waves, specifically in the infrared spectral range. Thanks to novel infrared sources from Infrasolid GmbH, they are able to create modern, handy radiation solutions for the skin treatment. With the technical know-how of Infrasolid GmbH, Achim Neu and Thomas Link are entering the market of medical products for hyperthermic skin treatment and want to revolutionize it by using infrared light. The first product already exists: a small, handy device that is connected to a smartphone and regulates the radiation intensity via an app. This fights against 4 problems at once: insect bites, acne, scars and warts.
SmartReha
SmartReha from Magdeburg has set itself the task of providing therapy for stroke patients. The team, consisting of Dr. Milos Dordevic and Benjamin Zober, among others, wants to facilitate and improve the rehabilitation after stroke incidents with the help of the connection between software and hardware, such as SmartTV, Smartphone or Tablet. Patients would not even have to leave their own four walls and could be treated directly from home.
BIOOND
Dirk Heinrich and his team from BIOOND are dealing with bio-based materials. More specifically they are developing and market innovative biogenic materials that consist of a high proportion of renewable raw materials. The aim is to use these materials as a substitute for plastic and synthetic. These materials shall be used in different kinds of product lines. However, currently they are focusing on their first product which are disposable flower pots.
Stay tuned for their development process and the latest news from their projects.
Are you a founder yourself and need help bringing you startup forward? Then find out more about our Accelerator Program here!
---
Follow us on Social Media